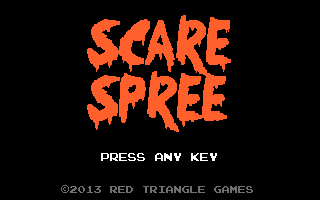 Horrendous Fun Awaits You!
Trick-or-Treat! Candy is amazing, but the true charm of Halloween is in becoming the scariest and most menancing creature of the night! In Scare Spree, you are in the pursuit of glory as you scare everything in sight! Choose your favorite costume and then watch as innocent trick-or-treaters run in fear of your awesome hair-raising skills! Prove you are the king of Halloween by making it well known to these oblivious kids, that you mean business!
With Classic 8-bit Arcade Style Gameplay, you can rack up the biggest combo and earn sweet rewards! All three stages have unlockable characters, so mastering each stage is crucial to reaping all of their prizes. There are a total of 12 hair-raising costumes to execute your tactics, from a wolf man, a martian, chainsaw pig, to even a cute monster that scares children with candy! Scare Spree also features an original soundtrack by Sodapiggy.